About Hardee Family Medicine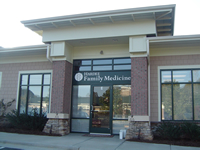 Hardee Family Medicine is a small private practice dedicated to serving the Mooresville/Lake Norman community since 2000. Being privately owned gives our staff the authority to make the best medical decision for our patient's. Many medical offices in our area are owned by large corporations and hospitals; they hold their providers and staff to strict guidelines. This is not always in the best interest of the patients. It gives us great pride to differ from those groups.
Scheduling extra time for new patients allows our staff and providers to carefully review each patient's medical history. At Hardee Family Medicine, we prefer to work closely with our patients, in order to deliver a more personal health care plan. We trust that your visits will be an exceptional experience in a friendly, comfortable, and professional environment.
Hardee Family Medicine provides comprehensive care for the entire family. This gives us a unique opportunity to have a deeper understanding of your family as a whole. We treat newborns to senior citizens. Our office is pleased and excited to welcome you to our family!